Monthly Archives:
July 2023
SCRIMMAGES
The scrimmage schedule is listed below. If you cannot attend one of the scrimmage dates that you are assigned, use the contact list below to secure a replacement by switching. The games are played at the Bristol Boys' & Girls' Club 255 West St, Bristol, CT 06010. Their website is https://www.bbgc.org/.
| | | | |
| --- | --- | --- | --- |
| Mon Aug 7 | Tues Aug 8 | Mon Aug 14 | Tues Aug 15 |
| Hoffman | Norberto | Hoffmann | Lynch |
| May | May | Kumm | |
| Norberto | Sebastian | Sebastian | Sebastian |
| Sebastian | Gatter | | |
| | | | |
| | | | |
CONTACTS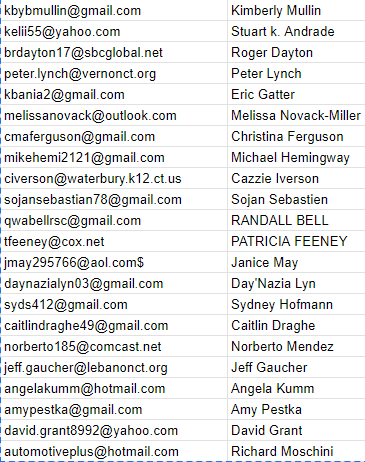 Notes that apply to everyone:
When you get to the gym, look at the court for ground rules. When you do the coin toss, explain them to captains. In Bristol, they should include: you can not enter another court at any time to play the ball, including after the ball is played back; don't back up onto the other court to serve.
Replays: we blow too many of them. You should only call for a replay if you think players safety is at risk. If the ball is being played on one side of court and a ball from another court rolls on the other side of the court and it can be dispatched quickly, there's no reason to end the point.
Mechanics: watch the videos. Make sure you are distinguishing between a net fault, a point, a downed ball (in), a center line violation. These can look alike if your mechanics are not crisp.

Give signal one time and hold it if necessary. Don't do a rapid fire fluttering because someone may have missed the signal.

Make the call based on what happened. If the ball flies under the net and you call it down, yes, the right team will get the point, but the proper mechanic is the center line violation. Practice doing it right.

R2- at the end of the point, if something stops you from finishing the Point-Fault sequence, make sure you pick it up and finish off. Example: your moving to the fault side and the ball comes toward you. Push the ball away, but then award the point and indicate the fault.

It's ok to verbalize when necessary. If you call a replay and every is looking at you dumbfounded, it's ok to say firmly "a ball rolled on the court" or whatever you need to do to get the message out.

The R2 is tending toward the court when she rotates to the fault side during play. This traps you at the pole. Keep your distance. Remember that the R2 is responsible for out of bounds calls as it pertains to the antenna (hits, outside, into net outside antenna) and if you're boxed in, you're not going to be able to see that.