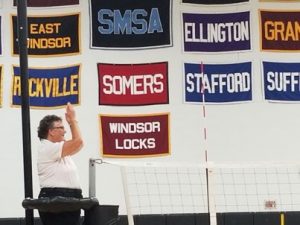 Important Dates
First Practice Date: Mar. 21
First Contest: Apr. 4
Last Date to Count for Tournament: May 28
State Finals:  June 11
Annual Meeting: TBA
Training Opportunities
The board will be offering new training opportunities at LIVE boys' matches this Spring. Attendance is open to ALL members, but especially encouraged for officials with 1-5 years of experience. We will provide highly experienced veteran officials to sit with attendees to discuss everything from pre-match & match protocol/procedures to team rotations, game situations, and ball handling. Then after the match, listen in on post-match debriefing with the R1 & R2 and give attendees a chance to ask a few questions.

The following 4 dates have been selected and are subject to change:
Thursday, April 16th @ Southington vs Xavier, 5:00 pm
Friday, April 17th @ Maloney vs NFA , 4:00 pm
Wednesday, April 22nd @ Farmington vs Newington, 4:30 pm
Monday, May 18th @ Wethersfield vs South Windsor, 4:00 pm
Anyone who plans on attending any of those dates should contact Secretary Jimmy Wildman so that we have a head count and a way to inform you of a potential schedule change. Please let Jimmy know by clicking HERE and filling out the form.